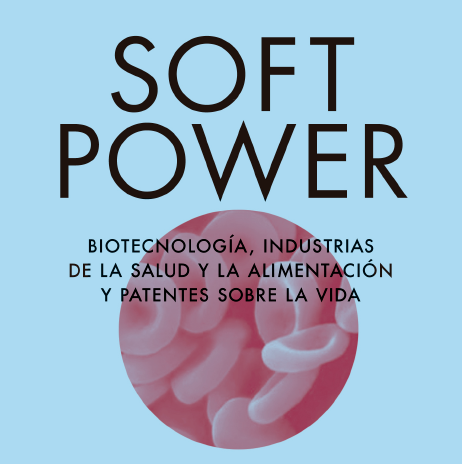 Soft Power Exhibition. Vitoria-Gasteiz, 2009 and Bilbao 2010. More in the: Soft Power catalogue.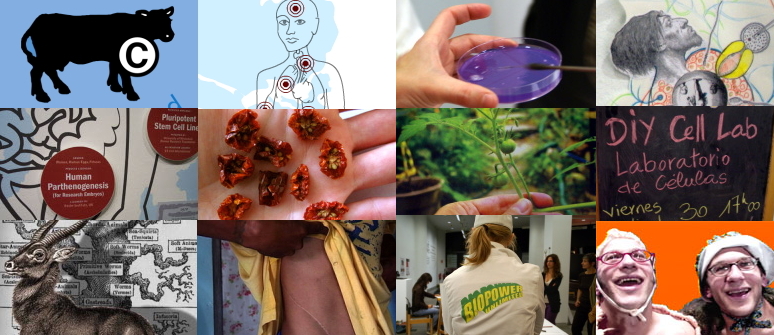 Selection of projects in Soft Power (by Bureau d´Etudes, subRosa, Boryana Rossa, Rachel Mayeri, Sally Gutierrez).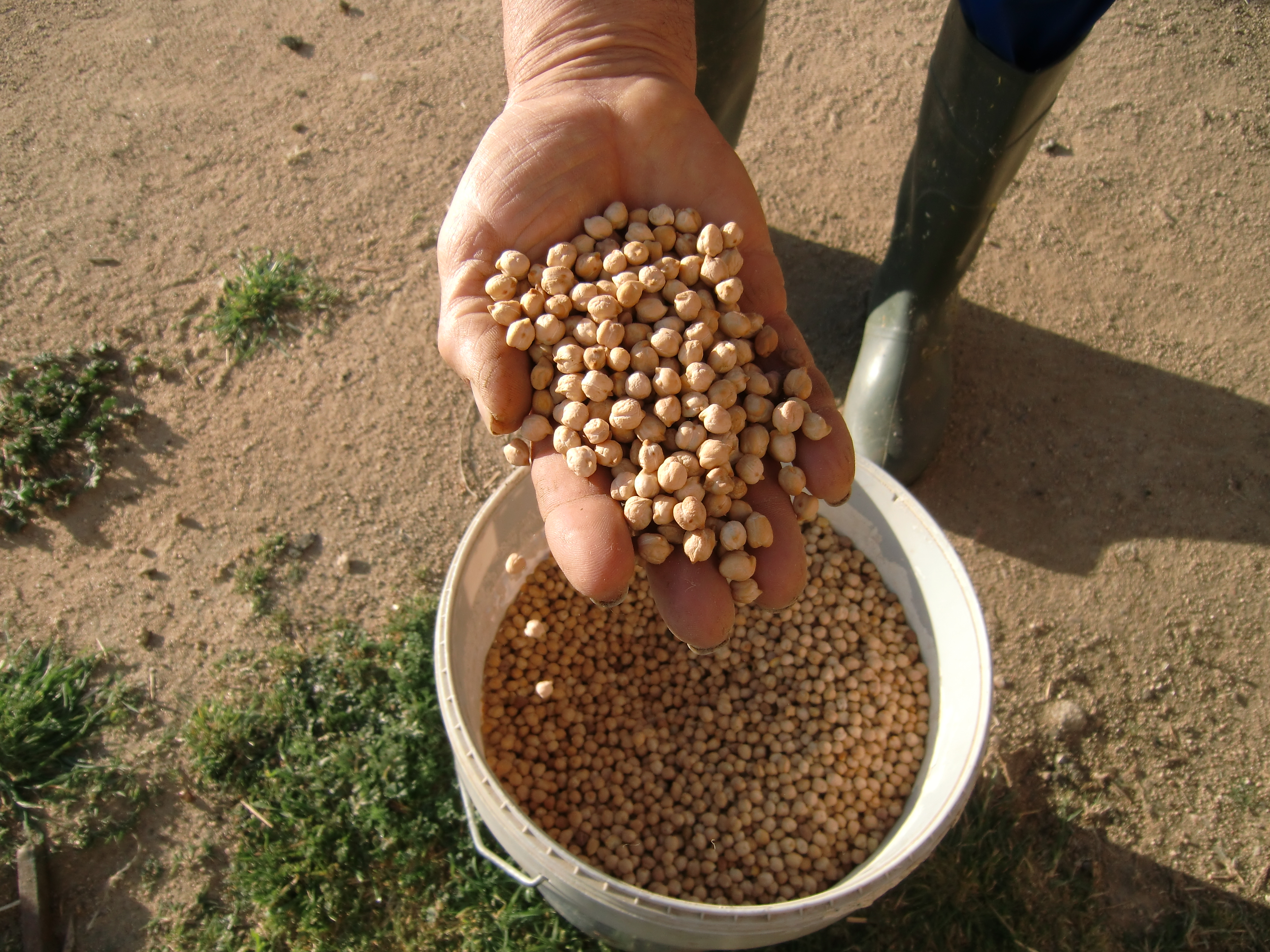 Chickpeas from Belalcázar, Córdoba, Spain (Foto: Maria Ptqk)
»Soft Power. Artistic and activist strategies against life-patents and for the democratization of science«
Maria Ptqk
Soft Power is a series of cultural activities on the crossroads of cultural critique and biotechnology that took place in Bilbao and Vitoria (Bask Country, Spain) between 2009 and 2010. Along with the exhibition - featuring artworks by subRosa, Rachel Mayeri, Bureau d´Études, Sally Gutierrez and Boryanna Rossa – there were screenings, workshops and discussions – with the participation of thinkers and activists like queer philosopher Beatriz Preciado – as well as a documentary installation on The Critical Art Ensemble Defense Fund, to support member of the collective and bio-art pioneer Steve Kurtz, accused of bioterrorism by the FBI (and eventually found innocent after 4 years of litigation)[1] .
The goal of the project was to show a comprehensive picture of the topics that arise when we look at the intersection of scientific knowledge and what we call "nature" from an artistic and cultural perspective: topics that range from ecology to agriculture, food politics, the pharmaceutical industry, health care, gender identity or the future of genetics. Soft Power tried to show how artists, thinkers or activists contribute to the public debate on scientific innovations that affect our daily life, shaping the way we eat, the way we relate to aging, what we consider to be an ill body (and what not) or what we perceive as being "natural" or "alive". It also intended to show how artists (but also writers or cultural researchers) often go beyond the given scenario of scientific research by their use of metaphors, language, imaginery, figurations or myths that are at the core of scientific culture but are not often regarded as such.
In the program, special light was put into bio-patents and the extension of intellectual property rights on living organisms, mainly through the works of Boryanna Rossa and the cyberfeminist collective subRosa. In "Bootleg Garden"[2] , Boryana Rossa ironically compares the clandestine traffic of cultural goods in Bulgaria during the communist era (such as records, considered as a perverse capitalistic influence) with the apparently innocent act of extracting seeds and growing them in a domestic garden. If the seeds are in any way issued of transgenic manipulation, they are very likely to be patented and thus commercialized under the sign "Reproduction Prohibited".
subRosa´s work "Cell Track. Mapping the Appropriation of Live Materials"[3] , also presented in Soft Power, is an installation and documentary website pointing at bio-patents that apply directly to the human body, such as the gene thought to be responsible of breast cancer (patented by Myriad and OncorMed) or the one thought to be responsible of AIDS infection (patented by the private organization Human Genome Sciences) or the entire genome of a 26-year-old woman from Panama (patented by an anonymous researcher). As stated in their website, subRosa´s main purpose is to question propietary science practices, but also, ultimately, to imagine "the feasibility of a public embryonic stem cell bank of non-patented, non-propietary stem cell-lines that could be made available to amateur artists, independent scientists and non-profit researchers conducting experimental or contestational research in and for the public domain".
For some, like indian activist Vandana Shiva, life-patents constitute a form of bio-piracy that pursue, by other means, the history of colonization. According to international organizations, whereas 95% of the world genetic resources are located in South and Central America, Africa and Asia, 97% of patents belong to companies from Europe and the United States. "Patents" - says Shiva - "are a replay of colonization as it took place 500 years ago in a number of ways. Interestingly, Columbus and other adventurers like him set out with pieces of paper that were called the letters patent which gave the power to the adventurers to claim as property the territory they found anywhere in the world that was not ruled by white Christian princes. Contemporary patents on life seem to be of a similar quality. They are pieces of paper issued by patent offices of the world that basically are telling corporations that if there's knowledge or living material, plants, seeds, medicines which the white man has not known about before, claim it on our behalf, and make profits out of it"[4] .
To restraint the patent of its natural resources, the Indian government is creating open repositories of local know-how regarding seeds, plants, traditional medicine and agriculture, such as The Traditional Knowledge Digital Library (for medicinal plants) or The Honey Bee Network (for indigenous knowledge). The aim is to prevent foreign companies to plead for the ownership of this resources, granting it to the local communities. But these open repositories, based on the logic of open-access, don´t really question the legitimacy of property rights over living organisms, only their attribution. Another strategy, that on the contrary does question the legitimacy of bio-patents, relies on the use of the concept of commons or "Common Heritage of Humankind", as expressed in the "Treaty Initiative to Share the Genetic Commons"[5] . According to it, "the nations of the world declare the Earth's gene pool, in all of its biological forms and manifestations, to be a global commons, to be protected and nurtured by all peoples and further declare that genes and the products they code for, in their natural, purified or synthesized form as well as chromosomes, cells, tissue, organs and organisms, including cloned, transgenic and chimeric organisms, will not be allowed to be claimed as commercially negotiable genetic information or intellectual property by governments, commercial enterprises, other institutions or individuals".
Inspired by this Treaty, subRosa propose in "Cell Track" their own particular contribution: "The Manifesto for a Post-Genome World", a utopian but yet deeply serious and political vision on how things could actually look like in the scientific realm. It includes statements like: "The Post Genome World welcomes a creative and experimental public science engaged in publicly funded, openly shared, and non-patented, bio-genetic research. The Post Genome World respects the integrity of a multiplicity of bodies of traditional knowledge in science, agriculture, and medicine, and the common use and free sharing of that knowledge for the benefit of all. The Post Genome World acknowledges that the intellectual production and knowledge of African-Americans, Chicanos, and Native Americans in the United States, and of Indigenous and minoritarian peoples around the world (both as individuals and as communities) has rarely been respected and valued. Therefore the Post Genome World supports the various demands for some form of Reparations for this stolen knowledge and production."
But probably the most radical response to life-patents is to be found in the Constitution of Ecuador, signed in 2008. Is states that Ecuador is a free-transgenic country, bans the patent of any kind of material originated and developed by collective knowledge and includes an entire section on "the rights of nature". But its main innovation is to introduce into a legal instrument coming from Western modern tradition indigenous concepts like pachamama[6] and sumak kawsay[7] . This has several implications. First, the indigenous cosmovision on nature is located at the center of the legal system of Ecuador, implying a first-order political recognition. Second, it expresses a critical shift of paradigm, from Human-centered to Bio-centered. Whereas in the Western tradition, the protection of nature is conceived around human rights (the right to a healthy environment, the right to access and use natural resources, etc.), in the indigenous perspective nature is to be protected for its own sake, set aside human needs or desires.
The Constitution of Ecuador manifests a clash of paradigms that is a common issue for science-related arts. How to integrate different fields of knowledge? How to share experiences and traditions that rely on completely different languages, backgrounds, practices and methodologies? How to create spaces for mutual recognition between experts coming from different disciplines? And between fields of knowledge that rely on different understandings of expertise? In fact, the question of interdisciplinarity or knowledge hybridization is directly linked to the one of authority. Who is allowed to say what? Is the artist allowed to reflect on science? Is the scientist allowed to think and work artistically? Is the public (by definition, a non-expert) allowed to speak?
Claire Pentecost – artist, writer and long-time collaborator of bio-art collective Critical Art Ensemble – proposes an interesting answer in her research project The Public Amateur. "One of the things I'm attached to is learning", she says. "And one of the models I've developed theoretically is that of the artist as the public amateur. Not the public intellectual, which is usually a position of mastery and critique, but the public amateur, a position of inquiry and experimentation. The amateur is the learner who is motivated by love or by personal attachment, and in this case, who consents to learn in public so that the very conditions of knowledge production can be interrogated. The public amateur takes the initiative to question something in the province of a discipline in which she is not conventionally qualified, acquires knowledge through unofficial means, and assumes the authority to offer interpretations of that knowledge, especially in regard to decisions that affect our lives"[8] .
Soft Power, as a cultural program founded by public means, has been deeply inspired by this perspective. More than showcasing the most prominent artists and thinkers, its main purpose was to provide the participants with an open and friendly atmosphere that would allow them to become passionate amateurs, to question the way scientific knowledge is actually being produced and disseminated and to "learn in public" on technical innovations that affect their everyday lives. In short, to provide a platform for the democratization of science.


* This text is the short English version of the paper "Biopatentes. El cercamiento de lo vivo" published in Teknokultura: Journal of Digital Culture and Social Movements Vol 10, No 1 (2013): http://www.mariaptqk.net/wp-content/uploads/2013/11/Biopatentes-Teknocultura.pdf