COOPERATING - to encourage creative participatory processes between "experts from different disciplines" and the "experts of everyday knowledge ". What can the RESEARCH ARTS community contribute to the transformation of global society towards one acting sustainably? How can we work together?
You want to be the PROJECT OF THE MONTH? See how it works! >>
| | |
| --- | --- |
| JOIN THE DIALOGUE - every four months the section under the heading COOPERATING presents a new topic or project. Previous topics and projects can be found in the ARCHIVE. >> You want to comment upon or challenge the TOPIC | PROJECT OF THE MONTH? Then visit our RESEARCH ARTS Dialogue Blog. >> | |
THE PROJECT OF THE MONTH (Sep/Dec 2013): The Textimage ERANOS DIALOG.
The Textimage ERANOS DIALOG. Christiane ten Hoevel und Stella Veciana.
The article presents the ERANOS DIALOG as a stimulating dialogue format for the development of inter / transdisciplinary projects. Eranos in ancient Greece was originally a friends' banquet where everyone contributed food. In a figurative sense, today Eranos is a mental feast, where the guests share, for example, a speech, a song, a drawing or their openness to improvise at joint talks and discussions. The talks follow the »open space principles« of a mini symposium: the contributions follow each other without any discussion in between, like pearls on a string.

Out of the shared experience of the ERANOS DIALOGUE, Christiane ten Hoevel and Stella Veciana developed together an experimental »text image«. Starting from the concept ERANOS DIALOGUE itself, each letter was associated with significant aspects of the experience gained during ERANOS DIALOGUE: like »exchanging« for »e« or »resting« for »r«. As a next step, each artist associated these verbs with an image, which evolved into a description of a storyline. Comparing the descriptions of each verb created a common semantic intersection. Linear links with different colors which distinguish new relations of meaning and interpretative connections can now be seen merging in an overall optical image of rich reciprocal exchange.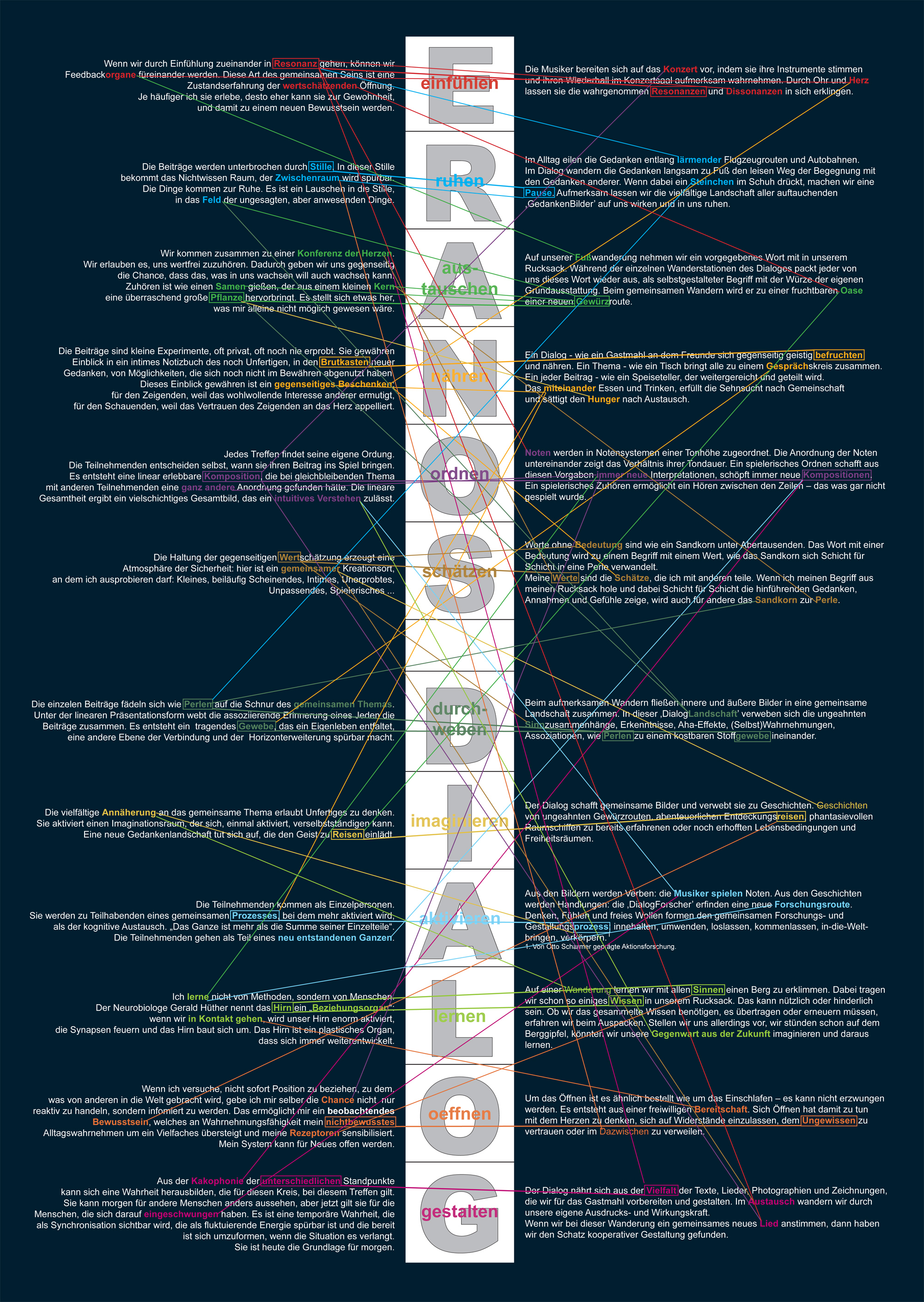 | | |
| --- | --- |
| | Christiane ten Hoevel - Studies in Fine Arts at the UdK Berlin, with additional training as a screen designer. Since 1992, international exhibitions, various scholarships nationally and abroad, since 2002 working as a lecturer and professor at colleges and universities. 2013 she founded with Prof. Andreas Mayer-Brennenstuhl the continuing education institute nn-institut. Christiane ten Hoevel lives and works in Berlin. more |
| | |
| --- | --- |
| | Stella Veciana - Studies in Experimental arts at the UdK University of Arts Berlin, Computer Arts at the School of Visual Arts in New York City and Cultural Policy & Management at the University Barcelona. Visiting Professor at the Faculty of Fine Arts of Barcelona and author for online master modules at the Postgraduate Institute of Madrid. PhD dissertation entiteled Research arts: the interface between art, science and technology as a field of knowledge and action at the University of Barcelona. more |
THE ARCHIVE PROJECTS and THEMES of the area of activity COOPERATING 2013

January 2013

THE THEME OF THE MONTH (Jan/Apr 2013): »Low-tech« versus »high-tech« cooperation: the politically charged potatoes of Víctor Grippo and the controversial BMW Guggenheim Lab Berlin. Stella Veciana.

In the seventies, the Argentine chemist and artist Victor Grippo developed a number of »low-tech experiments« using potatoes as an energy crop. With the choice of potatoes, he questioned the underlying social, political, historical, scientific and technological contexts of his energy-related experiments. Today the issues and »low-tech models« he raised are still relevant, especially regarding how international research cooperation between industrialized, emerging and developing countries should function. more
| | |
| --- | --- |
| April 2013 | THE PROJECT OF THE MONTH (Mai/Aug 2013): »New contents and forms of scientific communication: the Science & Theatre project«. Prof. Regine Hengge. Science & Theatre is a trans-disciplinary project at the cross-roads between natural sciences and art. Project partners are the microbiologist Prof. Regine Hengge from the Institute of Biology at the Free University of Berlin, and the theatre and artistic director of the English Theatre Berlin, Günther Grosser. Science & Theatre introduces young scientists to the social and ethical aspects of science, prepares them for their future responsibilities as science communicators, explores the theater stage as a new form of scientific communication, and develops new and current contents for the contemporary theatre in Germany within the context of 'Science Plays'. Science & Theatre views itself as a social laboratory where the conditions and opportunities for creativity and communication are examined as a long-term transdisciplinary project. (German) more |



September 2013

THE PROJECT OF THE MONTH (Sep/Dez 2013): »The Textimage ERANOS DIALOG«. Christiane ten Hoevel and Stella Veciana.

The article presents the ERANOS DIALOG as a stimulating dialogue format for the development of inter / transdisciplinary projects. Eranos in ancient Greece was originally a friends' banquet where everyone contributed food. In a figurative sense, today Eranos is a mental feast, where the guests share, for example, a speech, a song, a drawing or their openness to improvise at joint talks and discussions. Out of the shared experience of the ERANOS DIALOGUE, Christiane ten Hoevel and Stella Veciana developed together an experimental »text image«. more