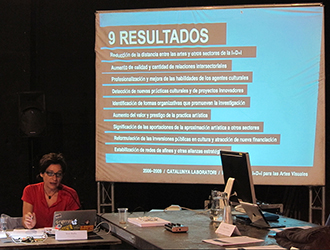 Tere Badia's input about""Cataluña Laboratorio: Plan Integral de I + D + i para el sector de las artes visuales en Cataluña, WIRKT Workshop on interdisciplinary research and knowledge transfer, Barcelona.
»Wissenstransfer, Kulturpolitik und Instrumente zur Förderung transdisziplinärer Forschungsgruppen«
Tere Badia.

The Visual Art Centre HANGAR aims to create a community between art, science, technology and society. How do you imagine this community could develop? How would you like envisioning it…

How I envision it? What could be the ideal of a transdisciplinary community or one that integrates diverse disciplines? As a basis, and this is already an ideal asking for paradise, something very difficult, it is peer to peer. This is the most complicated, that everyone recognizes each other, from where each of us come from as peer.
I think these kind of processes are the most complicated because we return constantly to this fight between disciplines, which discipline is the most correct, realistic, which approaches the world best, which is the most useful, and so on. This fight is a brutal fight.
The issue of the capacity of the other to interpret the world is a pitch battle. The technologists say they do not achieve because they depend on the instruments, the scientists say the artists do not achieve because they do not have a method or systems to share knowledge, the artists say the scientists are not aware of anything because they do not use the real parameters… not recognising each other is the most complicated issue. Mutual recognition of each other would be the ideal. And when we will reach that point I think we will resolve the battle.
How do we get there?

The paths are complicated… I can tell you what we are doing here. We are trying to keep on all these research processes, I understand research as the generation of new knowledge and when I say new I do not mean innovative but new, meaning other perspectives on things. It is an attempt to make the journey with an artistic viewpoint becomes a journey recognized as research, recognized as knowledge. This is our fight now in this ambit. Scientists are coming and recognizing us as partners. Not having to debate what is real and what is not. Not having a scientist say "what you are portraying here is not reality" or having an artist saying "what you are doing there is not reality". There is not one but there are thousands of realities. It is about conforming the systems of realities in order to… this is the battle we are fighting from here.
You are also developing a protocol trying to develop synergies between the different actors to create this community.

Yes, we are trying to create a serious of instruments that can function as the lines of the playing field. We have this area of possible cooperation, to see which should be the instruments, the methods, the objectives, the ways of facilitation, etc.
From here we are developing a protocol for transdisciplinary research, which is framed within a broader project between art, science and technology. We are trying to create an artistic research organism, with the support of research groups of different universities tied to the arts. We will see how we build this, and then we will include everybody. It is not about leaving them outside, but to take care of the process, the intimacy and sympathies, the recognitions, what I was saying about peer to peer. Because if you start to work with someone who does not recognize you… This is a very clear objective. And we want to archive this with the protocol, an artistic research organism, organizing seminars, meetings between different disciplines, etc.
What changes are needed in the cultural and scientific policies to facilitate this transdisciplinarity?

First of all they should start to talk with each other, between the departments. Nobody talks with each other, they all make their own policy. I would really like to know if the Ministry for the Economy gives his view above the others, or shares his view with the others. I think that the first thing that has to change is the hierarchical structure between departments. Policies have to be united, but not only with one objective. There must be policy with objectives that come from different departments, accept plurality, accept that from each area are specific needs and objectives.
I think this imposition that we all now have to work for the economy… I do not know, if we all work for economy, we may leave by the way other very important things that are not only economic. What I would do first is to break hierarchies between departments, either they speak with each other, or they will not understand each other.
What artistic strategies, methods or attitudes do you think are relevant to address global challenges such as climate change?

I prefer to speak of tactics because they have very specific objectives. I think that what can be contributed by an artist, from the ambit of the arts, are diverse and very specific approximations to very determinate topics. I think we have very global problems, but I am not sure we can have very global solutions, because I am afraid there are many levels that are hidden. I have the impression that global approaches can lead to many failures.
Can you tell us an example of collective work, of artistic works with social impact?

…for example the projects that have evolved out of the platform 15M. In the 15M there were different working groups, and there was one on culture. It organized a manifest of culture, were a specific kind of cultural policy was demanded. It raised the general guidelines of a cultural policy. What has to be understood as public policy in terms of culture? What has to be understood as cultural policy? What has to be understood by public culture? It does not only come from politics, but from specific social areas. It articulated very explicit instruments and tactics.
For example, it would be appropriate that we would take all the waste of the different institutions and we convert them in the following steps. Do we have to consume new matter if we have so much old material. From the perspective of degrowth, I think there are a lot of tactics and instruments, to give a longer temporality. Here we consume at high speed, so it is about giving a continuity, so that what is detritus becomes treasure, I have seen this in a lot of places. For example in Colombia, where they have whole stores full of industrial waste and mechanical waste, and they work in converting all this into apparatus, devices that function and have a next life. In this sense 15M incorporated this kind of logic within the logic of culture itself, of cultural production.
If we think about art as a specific kind of knowledge that can lead to personal transformation, but also the transformation of communities and social transformation, what kind of knowledge does art provide? What kind of knowledge do we need for a social transformation for instance towards values of sustainability?
I don't know if I can speak of art with capital letter, but what I consider more interesting is an artistic process that questions constantly the question about reality, that does not give anything for given, at anytime. And this little celebratory eagerness is fundamental and does not quite match with festivals. This constant questioning, a critical vision… because I do not know if the main function of art is to communicate. Art communicates as well, but I think that the function of art is to give a critical vision and deconstruct, destroy, crumble things… to question the function of things, the reason of things, the meaning… This is the contribution of art.
And it is not disciplinary, not constraining, but I think that from artistic practice you have much wider margins of action. Finally, it is an issue of the mechanism, art as a mechanism to construct and deconstruct at the same time, because of course you cannot only deconstruct. There is one artist here has a wonderful piece that are two gerunds, it is called "construct destroying, destroy constructing" I think it hits the mark of artistic practice. It contains the positive, the mechanism, the object, the critique, a lot of things…