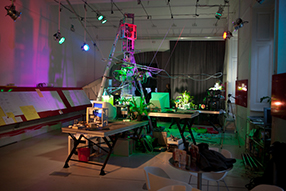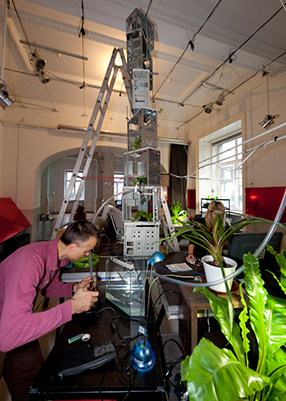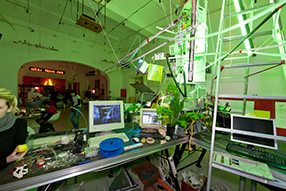 BIOMODD Workshop and Instalation, KIBLIX 2010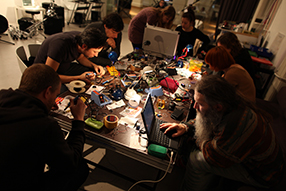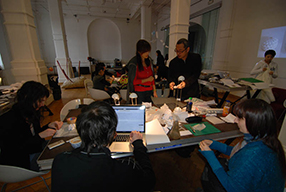 Workshopology, KIBLIX 2011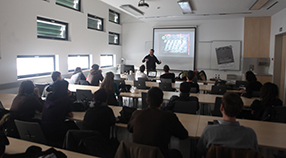 Lectures, KIBLIX 2011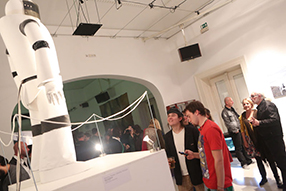 Robots&Avatars Exhibition, KIBLIX 2012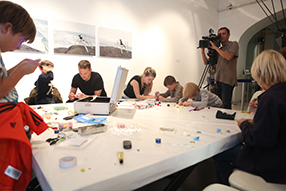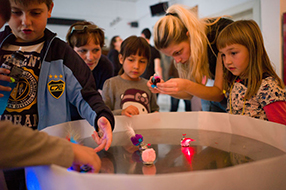 Mey Lean Kronemann: Klackerlaken – Workshop
Robots & Avatars KIBLIX 2012, KIBLIX 2012
»KIBLIX – CELEBRATE TOMORROW! The history of KIBLIX Art Science Technology Festival«.
Dejan Pestonik


From the cabinet of curiosity to days of wonder, for the last 200 years, public appreciation of knowing and understanding art, technology and science has transformed from a closed circle to an open field. The experience of participating hands-on enhances the experience of sharing while doing – a priceless ideology stepping forward into practice.
Since 2002 Association for Culture and Education (ACE) KIBLA, Maribor, Slovenia is gradually transforming the international, technically oriented open code event platform KIBLIX into a domain of celebration of art & science & technology, into open happening oriented new concepts of education, presentation and exhibition.
It all began as a business "get-together" festival, addressing representatives from Mobile & Internet & IT industries, discussing new technologies, especially UMTS and the latest applications in this area, latest solutions of safe electronic business and safe use of Internet. The main stress was on promoting/using Open Source tools and applications and Operating systems Linux.
During past 12 years period KIBLIX went trough it's transformation phases from business event to cultural performance and happening as a lab with the strong focus on education, hands-on creation, collaboration and sharing of knowledge. The educational program was always addressing, on one side, emerging artists to participate in professional / advanced workshops and exhibiting the outputs during the festival event, and on the other side reach outs to the public, especially youngsters and children with various mini-workshops on creative and playful technology&art workshops designed as edutainment modules addressed as workshopology spaces.
WASTE – Technology Minus (2010), Share is in the air (2011), SOFT CONTROL - Art Science and Technological unconscious (2012) ROBOTS & AVATARS - our colleagues and playmates of the future (2012), When Worlds Collide (2013) are just few latest editions which represented wide open transdisciplinary concepts. As a tribute to Maribor European Capital of Culture 2012 we conceived an extended version of KIBLIX, which included two programme units with a rich accompanying program: the first called »Robots and Avatars« and second »Soft Control«. With those two concepts we addressed two different aspects: the impact of science and technology on the social life of the individual, and an in-depth research into the secrets of science, which holds the key to our future. Both came up with numerous solutions to bridge the powerlessness of the individual in contemporary society. During three months with three large scale exhibitions, international conference and symposium, more than 40 workshops, etc., and more than 100 collaborating artists and experts from all over the globe, it represented one of the key event of it's kind in the region.
Followed by 2013 edition, associated with International »Festival of Computer Arts« (MFRU), entitled When Worlds Collide, coding and contemporary interdisciplinary forms of artistic conceptions were intertwined inside complex junctions of different worlds and approaches, in the tension between the natural and the bio-technological, the virtual and the hybrid, the fake and the genuine principle, which – in an abundance of dialogues, contradictions and junctions – became visible in the form of artistic installations, digital records of process works, performances, lectures, presentations, workshops and audio-visual events.
Featuring exhibitions, ambient installations, live performances and a workshops as well as discussions, round tables, fashion shows, parties and particularly, establishing cooperation and integration of new media and open code platforms, KIBLIX constantly seeks to lay the foundations for advanced cultural & social concepts. Abandoning the exhibition spaces in it's classical format KIBLIX offers active participation to individuals, transforming them from passive visitors into active participants. As such it is a unique show, offering to the public numerous new perspectives, which are important for the development of the individual and the society; asking questions, providing answers, provoking and motivating.

According to the statistics since 2005, Slovenia, considering the number of population two million, is on top of the European scale in the field of interdisciplinarity. There is a stand developing in the wider Slovenian space, mostly on behalf of university professors, researchers, students – i.e. the educational structures, scientists and and IT experts in connection to those artistic segments that are interested in the issues of understanding the present and development of the future. We hope, thanks to more than 400 artists and experts, institutions and companies from all over the world co-creating KIBLIX, that we contributed to this fact.
KIBLIX was always aimed and still is to be advanced structural platform in which artists who are hungry to know what researchers are doing and thinking, and researchers, eager to know of artistic experimentation come together to explore, discuss and share their ideas.
It will go on as a global happening where nationality, race, sexual orientation, age and political beliefs are of no significance. What matters is the awareness that joining forces and collaborating is a global model of the future and an undeniable asset to local co-existence. Co-dependence is much more pleasant once we realize that together we form a whole.
Welcome to the KIBLIX show 2014!
Boredomresearch Vicky Isley and Paul Smith:REAL SNAIL MAIL installation at SOFT CONTROL, KIBLIX 2012
Instalation, Marina Abramovič with Suzanne Dikker and Matthias Oostrik: MEASURING THE MAGIC OF MUTUAL GAZE, Real-time brain installation, EEG technology; SOFT CONTROL, KIBLIX 201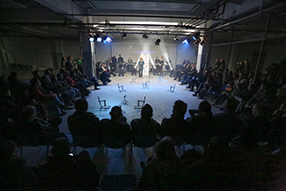 Louis-Philippe Demers: THE TILLER GIRLS, Opening performans at SOFT CONTROL, KIBLIX 2012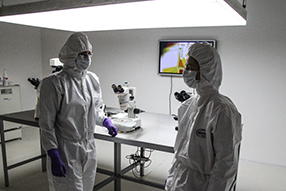 Polona Tratnik: INITIATION (installation); performance at the opening of exhibition SOFT CONTROL at Slovenj Gradec Gallery, KIBLIX 2012


Maja Smrekar and Špela Petrič workshop: DNA SEQUENCING: REFERENTIAL PROBABILITY STRUCTURES, SOFT CONTROL, KIBLIX 2012
Opening exhibition, MRFU-KIBLIX2013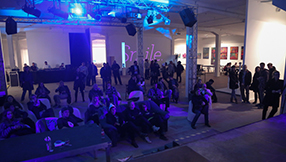 Public Performances, MRFU-KIBLIX2013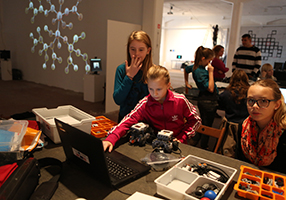 Dr. Suzana Uran, FERI University: Robocup – dancing robots workshops, MFRU-KIBLIX 2012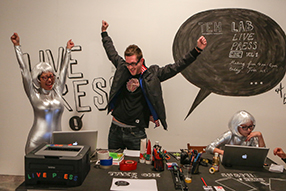 Ladies of the Press, Ana Čavič, Renée O'Drobinak, MRFU-KIBLIX2013
Photo credits: Boštjan Lah, Matej Kristovič, Milivoj Kuhar, archives ACE KIBLA, all rights reserved